MOTDgd – Advertisement for your Unturned server
If you run game servers on Unturned, you're in luck – you can now monetise your servers effectively. We offer a fantastic alternative to donations.
MOTDgd Ltd is a UK company, and we are proud to be a leading game ad network in the marketspace. We have over 10,000 server owners signed up worldwide, with a huge presence in the Steam marketplace.
Our video/banner adverts will be shown via a link, your users click on in link request window. It will open Steam browser, they will watch an ad for a short time (approx 30 sec) with the purpose of getting an item, ability or command defined by you, e.g. an item, a car, heal etc.
This is made possible by allowing you to run any number of custom/Unturned commands before and/or after an advertisement is shown. You can customise this how you wish with simple & RTD style reward modes included.
Our plugin is server friendly: We're lightweight and not bloated, you can define a period of time that your users won't benefit from watching an ad (cooldown), specify how many ads players get before going on a cooldown. You can now also choose custom ad backgrounds, text and a logo for your ad page with your community branding!
It is easy to install with our config file web generator.
Our plugin is unintrusive it will only impact a player's gameplay in the way that you tell it to.
This is a highly customisable plugin, and as such it is suitable for any type of server.
Important reminder!
We use clients private information (Public IP address) to generate hash code, that checks if the user that requested the ad is actually watching it. Before using this plugin, let clients know about this policy. Complete privacy policy can be found here: http://motdgd.com/privacy. By using this plugin, you signify your acceptance of this policy. If you do not agree to this policy, please do not use our plugin. Your continued use of the plugin following the posting of changes to this policy will be deemed your acceptance of those changes.
How to set it up?
First you need to register on MOTDgd and get your User ID. After you register, download .zip file from below. place MOTDgd.dll into your plugins folder and place other .dlls into Libraries folder. After moving folders, generate our config (or edit it on your own) and move it to Plugins\MOTDgd. Reload Rocket and you are good to go! 🙂
I'm currently working on video guide how to set this up.
Commands
ad – Show to player link to advertisement. Console – disabled.
cooldown – Show to player how much time is remaining before cooldown expiry. Console – disabled.
clearcooldown <player> – Clear cooldown for specified player. Console – enabled.
clearallcooldown – Clear cooldown for all players on the server. Console – enabled.
setmode ALL, SEQUENTIAL, RANDOM, WEIGHTED – Set the reward mode until server restart, (to make a permanent change you need to alter the physical config file)
givereward <player> – Give the player a reward manually
Permissions
To enable commands for players, add to your permission file – <Command>Command_you_want_to_enable</Command>
For example – if you want to enable ad and cooldown command add =>
<Command>ad</Command>
<Command>cooldown</Command>
To your permission file.
Additional permission – motdgd.immune – add this permission to players, that you don't want to see ad on join and reminder messages (usefull for VIPs and Donators).
Special thanks to Alexr03 for beta testing this plugin.
Screenshots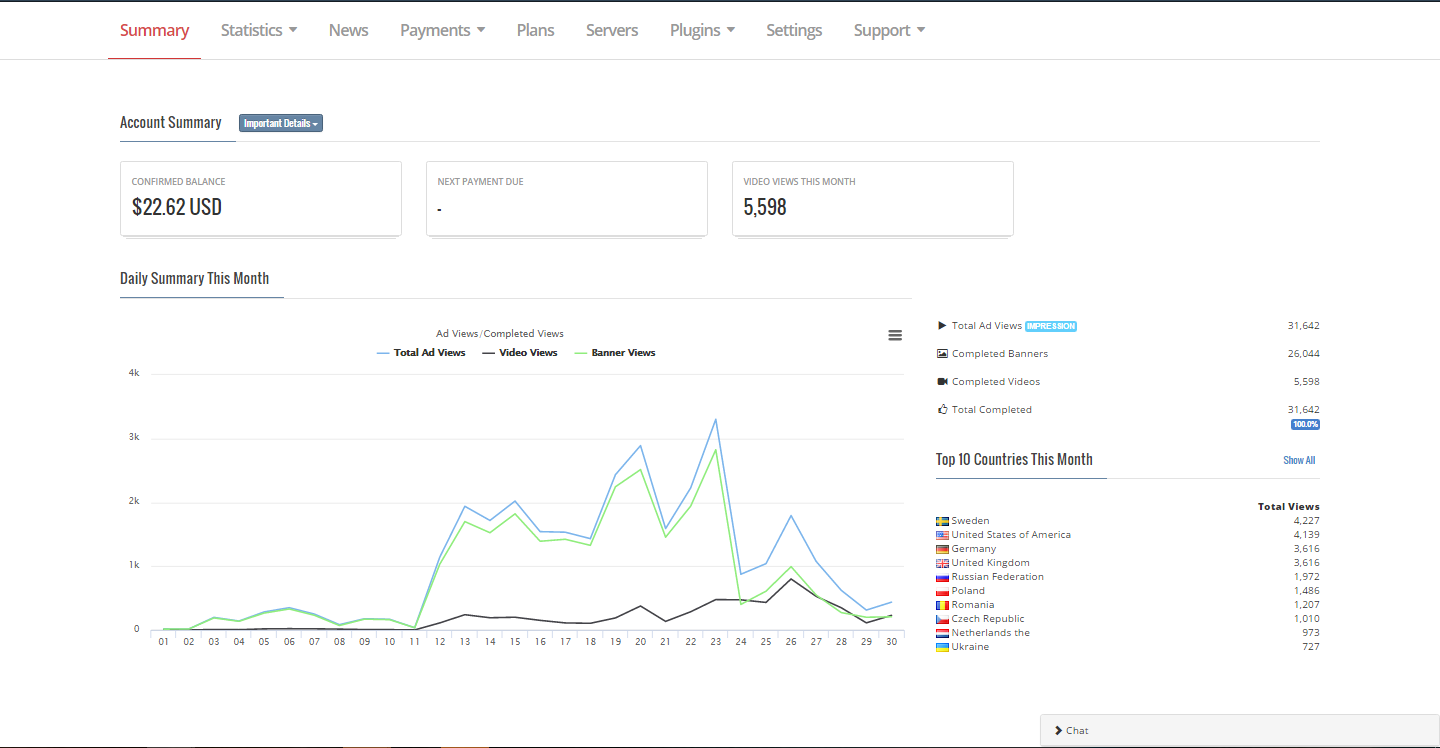 Changelog
2.0.3.0 –
Server url changed, please UPDATE UNTIL 1. 12. 2017 or the plugin won't work.
2.0.2.0 –
Added permission motdgd.immune
Minor fixes
2.0.1.0 –
Added new commands (setmode, givereward) – see plugin description for more info.
2.0.0.0 –
Plugin got completely reworked, since MOTDgd server changed.
Default english translation
Commands and permissions